This is issue #1 of my newsletter, Modern Capitalist. Sign up here to get weekly insights on how to scale yourself and your business in the modern age.
Hey team,
Happy Monday.
Let's talk about e-commerce vs. physical retail.
We know e-commerce is growing at rapid speed.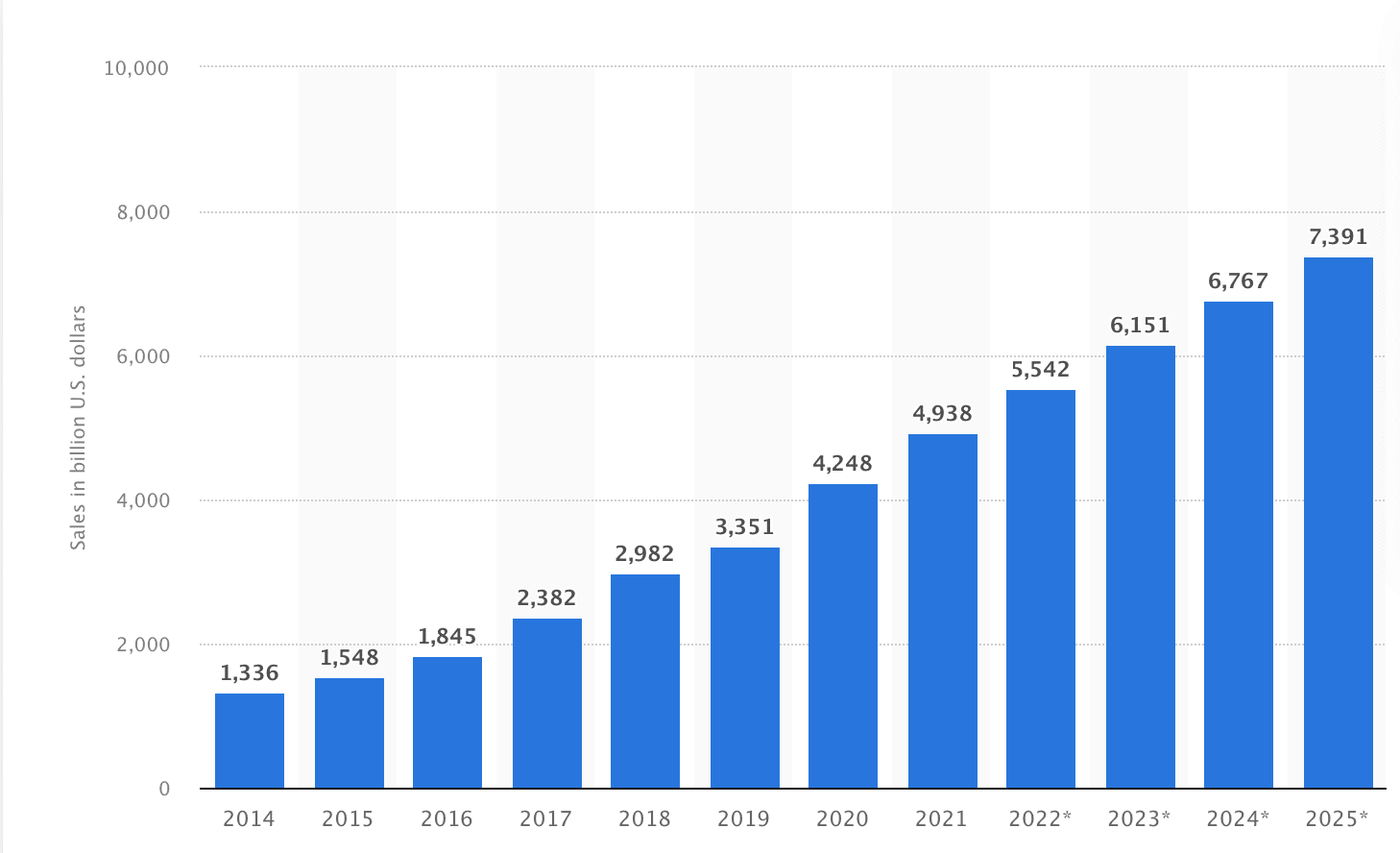 Sales have almost tripled over 5 years from 2015 -> 2020, which is insane.
And as a % share of total sales (including retail), we can see a growth trend.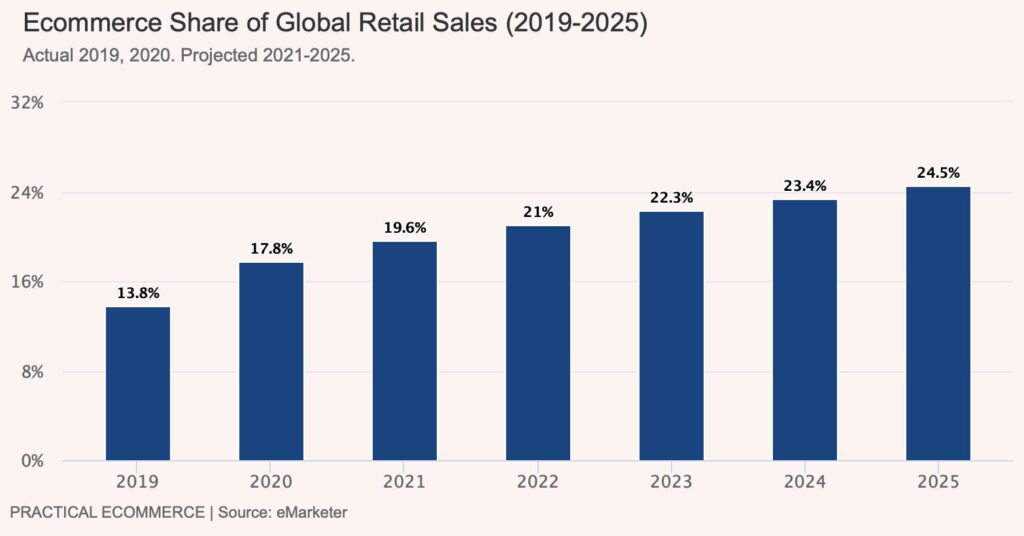 2021 is projected. I'd love to see the final data. My assumption: it's higher than 19.6% due to COVID.
While the projected growth trajectory is not as extreme as the total e-commerce sales graph (and we shouldn't expect it to be), there's still a 29% increase from 2019 -> 2020.
I think this projected data is too bearish for e-commerce because there are actually two forces acting to increase its share of global retail sales:
The natural adoption of e-commerce as a way to shop for items
The decline of physical retail
Let's look at the second.
The Slow Decline of Physical Retail
"I don't trust physical retail" — my dad
"I don't think I'd buy a TV or sound system on the internet. Too much that can go wrong." —also my dad, a few minutes later in the same conversation.
My dad's generation (he's in his mid 50s) has a decent amount of trust in e-commerce.
In 2021, 59% of EU internet users between the ages of 55-74 made a purchase online.

But what about the generation above that?
I can't find any data, but it's safe to assume that it's less than 59%.
My grandparents don't shop on the internet. They're in their 80s. If they need to buy a new laptop, cable, printer—they go to the department store.
It's not that they don't trust the internet. It's that they're not used to it. They want to talk to a real person in a real store and get an "expert" opinion (the use of the word expert here is dubious).
But what happens when this generation moves on? And the generation below them embraces online shipping even more due to convenience, cost and options?
Consequentially, what happens when the millennial generation—many of whom grew up with the internet—reach peak consumption age?
Here's what happens: physical retail as we know it declines. Significantly.
The data doesn't lie—department store revenue has been declining for years (even pre-covid).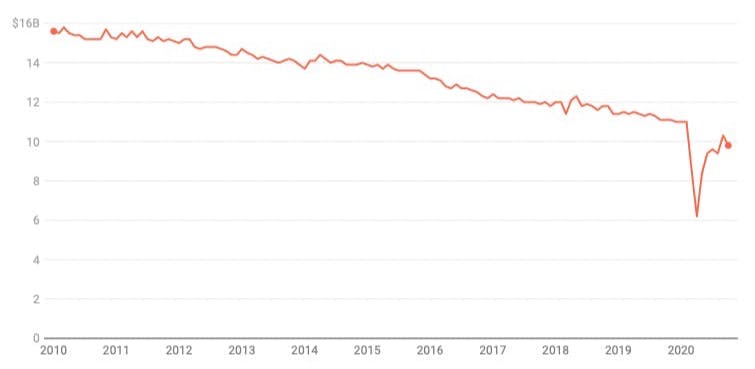 It will never disappear. But it will change. It will be different.
Your general department store simply doesn't offer much extra value over e-commerce. And the traditional arguments in favor of physical retail are quickly diminishing.
Let's look at a few.
The Arguments for Physical Retail
"People want to see, feel and touch an object before they buy."
This is true for specific categories of items: Jewellery, cars, furniture, clothing (to an extent).
But more and more, people choose to shop online for items in these categories.
For example: I bought two sofas last year—entirely online. I never sat in them. Never tried them out. I just looked at reviews and they seemed fine, so I bought them.
"People want to talk to a real person and ask them questions."
This is true for older generations. They generally trust someone in-store to tell them the truth about a product.
But if you're under the age of 60—chances are you're heading to YouTube and looking at detailed reviews and unboxing videos for the product you want to buy.
Not sure which macbook to get? Here are 5 videos from real tech experts comparing them—and they aren't getting a commission for selling you a more expensive one. More trustworthy.
"People want the convenience of having the item right there and then."
I think this is the strongest argument, actually.
I bought my last two macbooks from a department store because I needed them that day (either because the last one broke, or because I didn't want to wait weeks for shipping).
This advantage will diminish as same-day shipping becomes more prevalent.
"People don't want to deal with the returns process online."
I'd generally fall into this camp with lower ticket items. If it's below $50, I don't bother.
It is more convenient to take your item back to the store you purchased it from and get a refund or replacement right there and then (instead of packaging it up, sending it off, waiting for a new one, etc.)
The Opportunities
Physical retail will decline, but it won't die.
There are opportunities to be found in both the changing nature of physical retail and improving the ease, convenience, and trust-factor in e-commerce.
Let's look at a few.
#1 – Optimizing the Returns Process for e-Commerce
There are opportunities in optimizing the returns process for the end customer, and the seller.
On the customer front:
How easy is it for the customer to return an item they purchased online?
How long does it take?
Is it even worth doing?
As mentioned above, I generally won't deal with a returns process if it's frustrating or requires time. But if it was made extremely simple & easy—I would.
On the seller's end:
How can you make the returns process easier for the seller by acting as a middleman?
What are 3PLs not doing well, where can improvement be made?
My friend Sonny Byrd owns RockReturns, a high-touch apparel returns processor. He found that with high-end merchandise (he also owns a luxury suit biz—Grey Clothiers), standard 3PLs were unreliable when it came to packaging, shipping & returns.
That's one segment of the market, and there are many other opportunities to capture. I don't know enough about this space to give any real insight, so DYOR.
#2 – Retail as an Experience & Brand
Entering the Apple Store is an experience.
Entering a standard big brand retailer is not.
The former is a carefully crafted & designed space that bolsters Apple's brand and wows customers.
I expect to see better-known e-comm brands follow a similar approach. Gymshark building their flagship store in London is a good example.​
Also, I recently went down a YouTube wormhole on Cigar smoking. I've watched hours of videos on Davidoff London from YouTuber Kirby Allison.
Now, they have an e-commerce presence. You can buy cigars from their website.
But if I lived in London, I would go to the store—at least once. Why? The store itself is a brand. It's an experience. Their brand wouldn't be anywhere near as strong without the store itself.
#3 – Expert Guidance for e-Commerce
One reason people still shop at physical stores is for expert guidance.
If you're in your 20s like me, you probably don't need expert guidance from a store sales rep on which laptop to buy (you can just google it). But when it comes to things like running shoes, cigars, clothing/fashion (especially high-end), furniture, etc—it's helpful to have expert advice.
This is something I'd love to see more in e-commerce. The ability to talk with a real expert—not just a customer support person.
It is difficult for specific items (like running shoes) where the expert needs to physically look at you. But I think it can be done for a range of other categories.
What I read/watched this week
I started and finished Oliver Burkeman's book Four Thousand Weeks. It made me reflect on many things—particularly my tendency to try to optimize anything and everything, which I've found makes life a lot less enjoyable.
I've been watching a lot of travel videos/vlogs (about to head off to Europe for several months—any recommendations?). Most of them are extremely boring to watch, and focus too much on the person/couple filming. That said, I really enjoyed Allan Su's Iceland Travel Guide.
Thread of the week
Shameless self-promotion time…
​I wrote a thread on the business I'd start if I had to generate cashflow quickly and didn't have any skills/resources.
It went semi-viral (over 250k impressions), and brought in a bunch of awesome followers (and newsletter subscribers—thank you!)